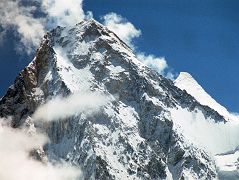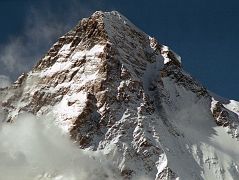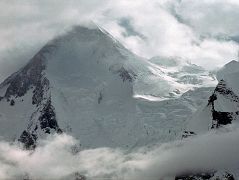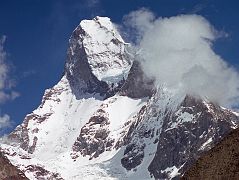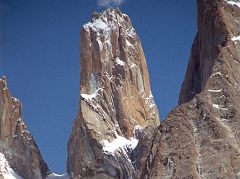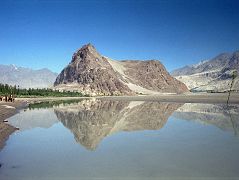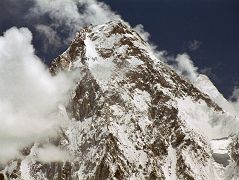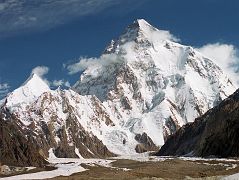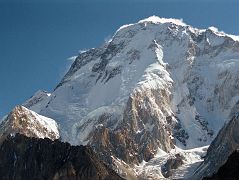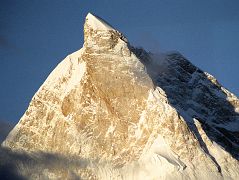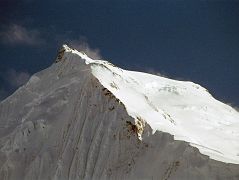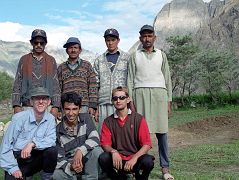 Updated: June 2011. Click on an image to see the FULL size with a caption.
Gasherbrum II - 8035m - #13 In The World
To see the full list of photos, see K2 Photo Gallery.
Gasherbrum is a remote group of peaks located at the north-eastern end of the Baltoro Glacier in the Karakoram range of the Himalaya. The massif contains two of the world's 8000m peaks. In 1856, Thomas George Montgomerie, a British Royal Engineers lieutenant and a member of the Great Trigonometric Survey of India, sighted a group of high peaks in the Karakoram from more than 200 km away. He named five of these peaks K1, K2, K3, K4 and K5 where the K denotes Karakoram. Today, K1 is known as Masherbrum, K3 as Broad Peak, K4 as Gasherbrum II and K5 as Gasherbrum I. Only K2, the second highest mountain in the world, has kept Montgomerie's name.
---
---
Gasherbrum II First Ascent
---
Other Notable Gasherbrum II Ascents
---
My Top 5 Memories Of Gasherbrum II
1. View from Concordia includes K2, Broad Peak, Gasherbrum IV, Gasherbrum II, Baltoro Kangri, Mitre Peak, Paiju Peak, Crystal Peak and Marble Peak. Gasherbrum I becomes visible at Gasherbrum Corner at the junction of the Upper Baltoro Glacier and the Abruzzi Glacier.
2. View from Khoburtse at sunrise includes Paiju Peak, Uli Biaho Tower, Trango Castle, Cathedral and Lobsang Spire.
3. Masherbrum shines at both sunset and sunrise from Goro II camp on the Baltoro Glacier.
4. Trango Nameless Tower and the Great Trango Tower from the Baltoro Glacier on the trek from Paiju to Khoburtse
5. Skardu, situated next to the Indus River, has beautiful lakes and sand dunes