Trek to Everest Kangshung East Face Travelogue October 1998
Day 8 October 4, 1998 Trek from Dhampu (4300m) to Lake Camp below Shao La (4700m)
The Tibetan woman was already up starting the fire for their breakfast. She wore the typical Tibetan chuba, a black robe reaching from her shoulders to the top of her flimsy green Chinese sneakers, held together with a wide belt made of multi-coloured cloth on the back and silvery metal on the front, a long dark apron, and bright green long sleeved top. Her hair was braided and held in a bun with a coloured piece of cloth. The other six were still under their blankets beneath the tarp, all huddled close together sleeping head to head crossways.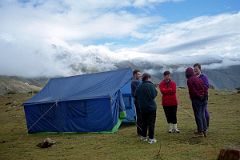 I had my usual early morning milk-tea while I waited for the others to get up and join me in the mess tent for breakfast. Suddenly I heard Shane cursing profusely. I went over to see what was going on. "Those bastards, they stole my hiking boots, my Gore-Tex jacket, and even my Tibetan phrase book." She was fuming, and quite rightly so. "I left them in the vestibule of my tent which was zipped up. I can't believe it. I can't believe it."
Kumar and Tashi came over and Shane went through what was stolen. Kumar and Tashi then walked to the other tents to see if anything else was stolen. I told him Chris and I had taken our things inside the tent and didn't have any problem. Ben said nothing was missing. Gerhardt and Valerie weren't so lucky; he lost his Gore-Tex jacket while she had her hiking boots stolen.
Tashi and Kumar left to talk to the yak herders, but they'd heard nothing in the night. Kumar walked back to Shane and Valerie and told them it probably was the local villagers, and that nothing could be done. He asked them if we needed to go back to Kharta to try and find new shoes, but luckily both Shane and Valerie had running shoes. (It was good that it wasn't my hiking boots because I didn't have anything else to wear on my feet). Tashi told them that they'd be ok with those running shoes, that there was little chance of any snow. So, we would continue our trek a little lighter while the local villagers wore new hiking boots and brand new Gore-Tex jackets, or maybe they'd sell them to get some money to help with their subsistence living.