Mount Assiniboine and Mount Robson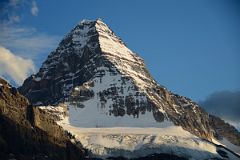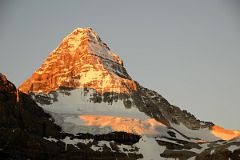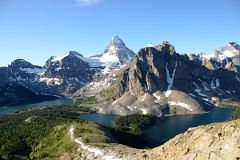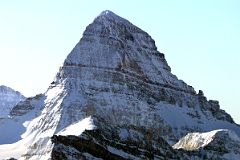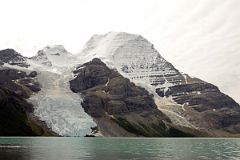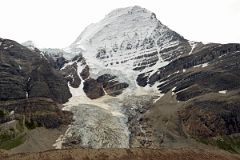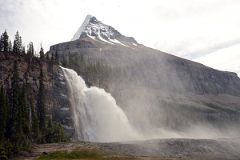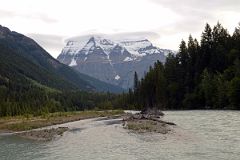 The Alberta Rocky Mountains are my favourite part of Canada. It has it all - spectacular mountains like Mount Assiniboine and Mount Robson, some of the best hikes in the world like the Berg Lake Trail to Mount Robson and the trek from Sunshine Meadows to Mount Assiniboine.
The 29km trek to Mount Assiniboine starts near Banff at Sunshine Meadows. After trekking across the flower-filled meadows, the trail descends from Citadel Pass toward the Simpson River with mountain views ahead. The trail passes the Valley Of the Rocks and then Mount Assiniboine comes fully into view at Og Lake. We passed by Lake Magog and settled into the Naiset Cabins for dinner and a good night's sleep.
The next morning was perfect with a spectacular sunrise on Mount Assiniboine. A fairly short easy hike brings you to the Nublet with a panoramic view of Terrapin Mountain, Mount Magog, Mount Assiniboine, Sunburst Peak, The Marshall, Lake Magog, Sunburst Lake and Cerulean Lake. Rather than trek back out, we took a helicopter over the mountains and landed in Canmore just 10 minutes later.
For Mount Robson, we started our hike with a helicopter ride with great views of Robson and surrounding mountains before landing at Robson Pass beyond Berg Lake. We then trekked back to Berg Lake with views of Mount Robson's North and Emperor Faces and Berg and Mist glaciers before starting the descent on the Berg Lake Trail.
The Valley Of A Thousand Falls came into view and then Emperor Falls, Falls Of The Pool, and White Falls before reaching the Robson River. We trekked along side the Robson River to Kinney Lake before reaching the parking lot. What a beautiful day!